Cavius heat alarm, 5Y 65mm
Meet the Cavius Family: 5 year heat alarm
Cavius has invented the World's smallest wireless heat alarm to enhance its Wireless Alarm Family. This heat alarm is designed for the kitchen, or other areas where smoke may occur without a fire. Eg. by the fireplace, garages etc.
Cavius heat alarm is a thermo sensitive detector with wireless technology, detecting rapidly increased heat or absolute heat level.
Its compact 65mm cone shape design includes a 5 year battery, 5 year warranty, a powerful 85dB(A) siren at 3 meters and a wide and easy to access test button which also allow to activate a 10 minutes pause function. The heat alarm Wireless Family is communicating with other detectors across features.
€54.00
Description
USAGE:
Designed for installation in private homes or garages with risk for smoky, dusty, or humid or environment, as for example kitchen area, living room with wooden stove burner, garage area, washing and drying area etc.
The alarm can be connected with other alarms from the Cavius Wireless alarm family.
BATTERY TYPE:
DURACELL, PANASONIC or HUIDERUI replaceable 3v CR123A lithium battery 1600mAh.
BATTERY LIFE:
Minimum 5 year life in normal operating condition. (Based on a weekly testing).
LOW BATTERY INDICATION:
A short acoustic "beep" will sound and LED flash every 48 seconds when the voltage is below 2.85V. In this stage it will continue for minmum 30 days, and can drive the alarm for 4 minutes.
NORMAL OPERATION:
LED flashes every 48 second for normal operation.
SOUND:
Audible indicator min. 85 dB @ 3 meter in anechoic chamber.
SOUND PATTERN:
Fire alarm condition is indicated by a series of three successive tones.

VISIBLE INDICATOR:
A red LED is used to indicate the following conditions:
– Alarm condition is indicated by a flash every 0.5 seconds.
– Normal operation is indicated by a flash every 48 seconds.
PRODUCT WEIGHT (GR):
Base alarm weight (excluding screws, plugs and mounting ring): 50 g
DETECTION TIMING:
The alarm makes a reading every 8 seconds. At unusual readings (going into alarm stage), the readings are taken every 2 seconds.
APPROVALS:
Tested according to EN54-5 EN60065
EN300-220
ROHS
REACH
AWARDS:
Red Dot 2016 Design Awards
ASSOCIATIONS:
Cavius is member of GIFSID, manufacturers' association of domestic fire safety equipment
DOWNLOAD SPECIFICATIONS:

You may also like…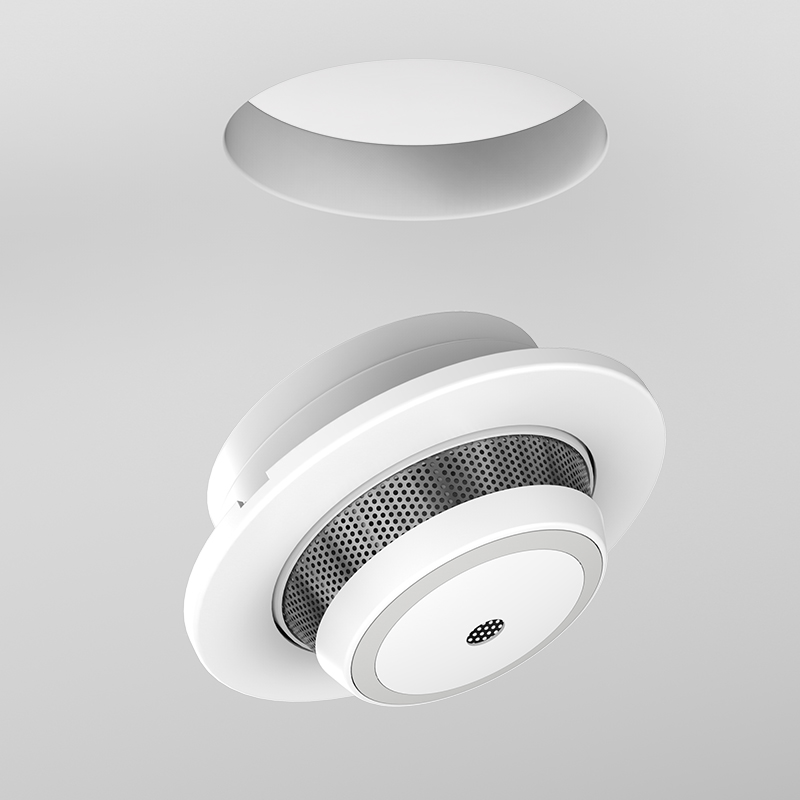 Cavius build-in base, 65mm
The World's smallest, just got smaller!
The first "build in" base, to pass the Fireroom Test. The new top button on the 65mm product lines, allows you to build in the Cavius "stand alone" models. And will make your Cavius alarm even more unnoticed. Designed with standard Cavius snap features, it will substitute original mounting base and allow you to hide much of your alarm into the ceiling. This Cavius build-in base fits our 65mm alarms.
€

6.40
Add to cart
Quick View
Cavius mounting kit, 65mm
Cavius mounting kit
– fits all 65mm alarms! The Cavius mounting kit contains one base with double sided tape, quick and easy to mount and with extra screw kit. Not suitable for vinyl wallpapers, polystyrene, non-stick and silicone coatings. For ceiling mounting.
€

8.00
Add to cart
Quick View
Cavius smoke alarm, 5Y 65mm
Meet the Cavius Family: 5 year smoke alarm
Cavius expertise is now extended to the world of wireless technology, with a new smoke alarm specifically designed to perfectly fit the modern family's need for home safety. Your whole home is now under control. Its 65mm cone shape body includes an optical 5 years battery life smoke alarm device with wireless interlink, to be connected within a house group and with other alarms from the Cavius Wireless Alarm Family. Its wide and easy to access test button will allow you to check its penetrating sound of 85dB(A) at 3 meters, or to activate a 10 minutes pause function.
€

54.00
Add to cart
Quick View