View cart
"Cavius Travel Alarm" has been added to your cart.
Cavius mounting kit, 65mm
Cavius mounting kit
– fits all 65mm alarms!
The Cavius mounting kit contains one base with double sided tape, quick and easy to mount and with extra screw kit. Not suitable for vinyl wallpapers, polystyrene, non-stick and silicone coatings. For ceiling mounting.
€8.00
In stock
Description
PRODUCT DATA:
Cavius mounting kit is a double-coated 3M tape which can be used as an accessory for Cavius 65mm Wireless Alarm Family to be easily stuck to the ceiling. Drilling, mud and dirt holes in the ceiling belong to the past. Thus, the alarm is ideal not only for residential and business premises, but also for leisure vehicles.
Cavius mounting kit has an excellent long term holding power. Resistant to solvents, temperatures extremes, and U.V. lights make it suitable for many interior applications.
For maximum strength, the surfaces should be thoroughly cleaned with a 50:50 mixture of isopropyl alcohol and water. Ideal tape application is accomplished when temperature is between 21° and 38°C. Maximum grip is reached after 24h.
The operation is convenient and easy:
This set consists of an original Cavius mounting base with adhesive pad and an additional set of screws and dowels.
1. The base can be used for all 65 mm alarms
2. Remove protective film from the base
3. Press the base with inserted smoke alarm for about 10 seconds at a suitable place on the ceiling.
Suitable for vinyl wallpaper, polystyrene, non-stick and Silicon Coatings.
DOWNLOAD SPECIFICATIONS:

You may also like…
Cavius smoke alarm, 5Y 65mm
Meet the Cavius Family: 5 year smoke alarm
Cavius expertise is now extended to the world of wireless technology, with a new smoke alarm specifically designed to perfectly fit the modern family's need for home safety. Your whole home is now under control. Its 65mm cone shape body includes an optical 5 years battery life smoke alarm device with wireless interlink, to be connected within a house group and with other alarms from the Cavius Wireless Alarm Family. Its wide and easy to access test button will allow you to check its penetrating sound of 85dB(A) at 3 meters, or to activate a 10 minutes pause function.
€

54.00
Add to cart
Quick View
Cavius heat alarm, 5Y 65mm
Meet the Cavius Family: 5 year heat alarm
Cavius has invented the World's smallest wireless heat alarm to enhance its Wireless Alarm Family. This heat alarm is designed for the kitchen, or other areas where smoke may occur without a fire. Eg. by the fireplace, garages etc. Cavius heat alarm is a thermo sensitive detector with wireless technology, detecting rapidly increased heat or absolute heat level. Its compact 65mm cone shape design includes a 5 year battery, 5 year warranty, a powerful 85dB(A) siren at 3 meters and a wide and easy to access test button which also allow to activate a 10 minutes pause function. The heat alarm Wireless Family is communicating with other detectors across features.
€

54.00
Add to cart
Quick View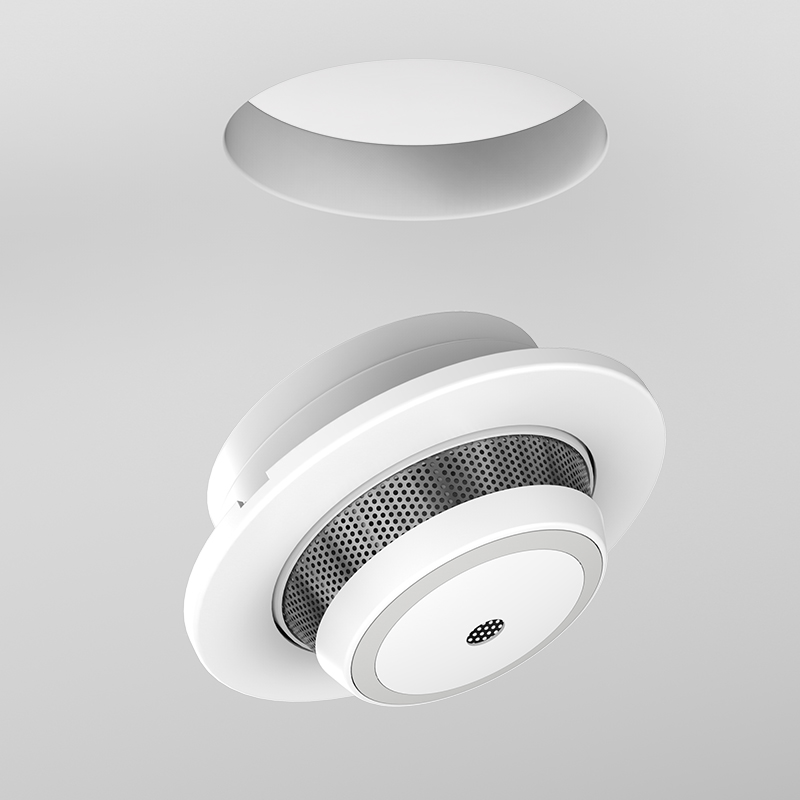 Cavius build-in base, 65mm
The World's smallest, just got smaller!
The first "build in" base, to pass the Fireroom Test. The new top button on the 65mm product lines, allows you to build in the Cavius "stand alone" models. And will make your Cavius alarm even more unnoticed. Designed with standard Cavius snap features, it will substitute original mounting base and allow you to hide much of your alarm into the ceiling. This Cavius build-in base fits our 65mm alarms.
€

6.40
Add to cart
Quick View